Penetrate the wreck but don't go to the light!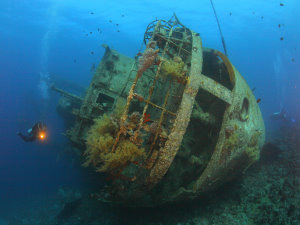 If you have completed the Wreck adventure dive during your Advanced Open Water course the you only need to complete three more dives to earn this specialty rating. On dive two you will make a map of the wreck noting possible entry and exit points, on dive three you will practice using a reel while handling a dive light on the outside of the wreck, if you are successful at that then you can visit the engine room on the final dive of the course.
Wrecks are exciting and fascinating glimpses into history, as well as making great artificial reefs. We have four main wrecks in Aqaba - the most famous being the 
Cedar pride.
 Dive Aqaba recommends this one for your wreck diving specialty course. It is at an appropriate depth allowing plenty of time for learning wreck diving techniques so including how to make wreck penetration dives - it doesn't get much more exciting than this! 
2 days 4 dives
The other wrecks are all worth a visit when you are here, 
the tank
 is now a famous Aqaba underwater feature in its own right,
Tarmac Five
 can be used also for elements of the wreck specialty course and the top of the 
Taiyong
 and 
Shorouk
wrecks can be visited during the later dives of the 
Deep Diver
 Specialty course. Also we now have the C130 Hercules and Tristar aircraft to visit both of which can be used for the optional penetration dive on dive of the course.
This course includes books and materials, instructor fees, transportation to and from dive sites, penetration reel rental, dive fees and certification, it does not include standard equipment rental, boat diving fees or accommodation which are optional and can be arranged.