This amazing one day course allows you to dive anywhere in the world to 12 meters with a PADI professional (Divemaster or Instructor), and it can be completed following these 3 simple steps:
You can start your knowledge development on arrival or at home before you meet with the your Instructor by enrolling in the PADI e-learning program, you can learn to dive anywhere; at home, at work, or even on your way to your vacation. The e-learning program provides 2 options, an online and an offline course, choosing an offline course allows you to access your purchased material at ease anytime and anywhere. To register for the e-learning, click on this link here, or a registration option will be provided by your Instructor upon your arrival.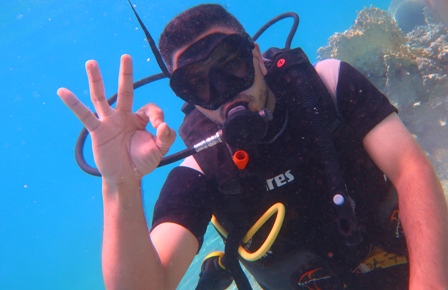 You will start your course by completing the confined training section first, where you will learn new skills and aquire new experiences, your Instructor will teach you the basic skills you need to be able to safely dive even under supervision anywhere in the world and enjoy the amazing underwater realm of our blue planet. You will learn to manage breathing underwater, how to clear your mask, sharing alternate air with your buddy, and control your bouyancy while diving underwater, all this wil make you a better diver and ensure your safety and enjoyment wherever you dive.
Once you meet the level of mastery required by the PADI standards, your Instructor will proceed and take you on your open water dives, where you will apply some of the skills that you learned and explore the amazing reefs Aqaba has to offer. You can visit any of the dive sites listed in our diving page and have an unforgettable experience that you will take with you for life.

Once you complete your training and get your certification, you can join the diving world and dive at any location with a PADI professional, or can continue your diving experience and get your Open Water Diver Certification which allows you to dive more independently which allows you to go deeper and advance your dive knowledge and training.
The scuba Diver Course is fun, easy and can fit into your busy vacation plan, it is the best investment you do and it increases your lifes values and will change you forever.
This course includes books and materials, instructor fees, transportation to confined and open water sites, confined and open water dives, equipment rental and certification, it does not include, boat diving fees or accommodation which are optional and can be arranged.