IDC Staffing(see IDC schedule - free if you bring a paying IDC candidate)
Going for Course Director? Then you need to get some staffings under your belt!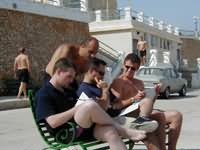 With our Course Director and other IDC staff you will gain valuable evalution practice, fine tune you demo and teaching skills in the classroom and the water. You can also get help in preparing your Course Director application to PADI and ideas for futures business plans. Fill in any gaps in your knowledge of the diving industry, learn how to present statistics, marketing ideas and more. Be ready for your live interview with PADI staff.